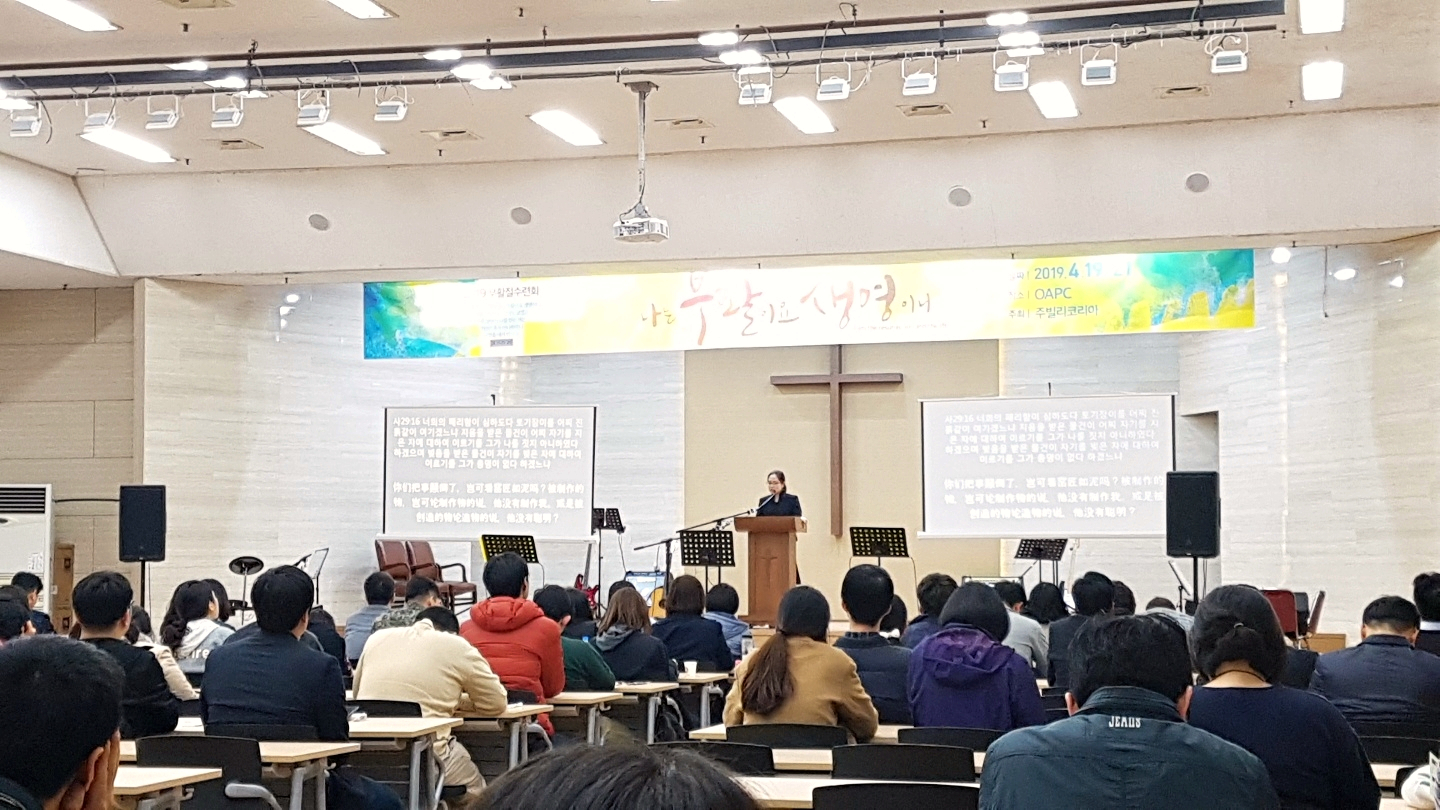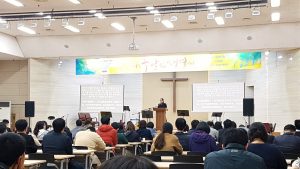 On Good Friday, Easter retreat started at OAPC, with the opening service on April 19th.
The theme of this retreat is "I am the Life and Resurrection". Members will meditate on the subject of the cross and resurrection of Jesus Christ from Farewell Sermon. Along with three Bible lectures, there are two special lectures, two worship services, and a praise prayer night for every evening.
Pastor Christopher Park, the Representative of Youth Evangelical Fellowship Korea delivered the sermon at the opening service with the passage from [Luke 24:30-35].
"Why we gather before Easter? To meditate on the meaning of the cross of Jesus Christ, the meaning of sacrifice, and the meaning of that love, as it is written in the Bible. The Lord Himself came to frustrated disciples to open Himself, to teach the meaning of broken bread. May this retreat to be the period where we meet the Lord of resurrection. "
"Today is Good Friday. As you look deeper into the cross, you will realize the meaning of resurrection. May God teach us the meaning of the sacrifice of the Lord one by one, suffering of the Lord who is torn for us, and about the amazing love of the cross that has become the bread of life. After then, we will be the witness of His resurrection, raising the church, the body of Christ. "
"Special Lecture : God's Perfect Salvation and History Led by Him"
Pastor Sophia Hong, Academic Director of Olivet Theological College & Seminary, spoke of the sins in us through the story of the woman who broke the jar and the story of Judah, and the salvation of the perfect cross to wash away this sin.
She first summarized history books such as Exodus, Joshua, Samuel and 1 Kings from the fall of Genesis Adam and Cain, and taught God's perfect providence and redemption. In particular, she emphasized that civilization and institutions are developed, but they are superficial, and that deep sins still remain in us as pride.
But God is our Creator, the only one who knows the perfect path of salvation. The cross of Jesus Christ saves us as we accept the love revealed on the cross.
"Prayer Gathering : Crying under the Cross of Precious Blood"
After the lecture, a prayer meeting is being held with Jubilee and Elim. Participants repented on their sins in their words and deeply meditated on Jesus, who was crucified because of love.