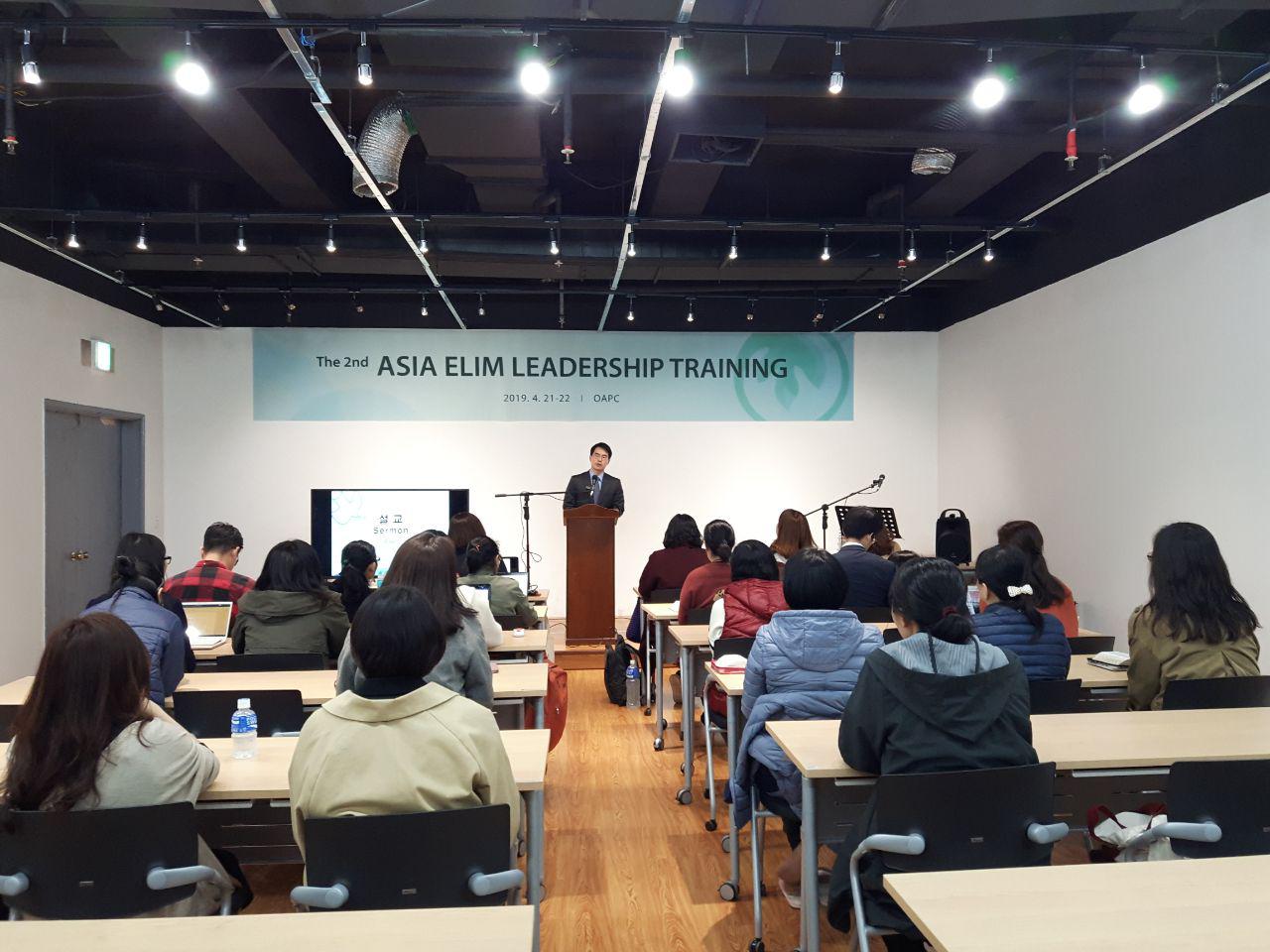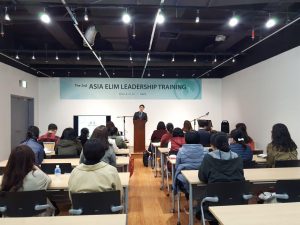 After the Easter retreat concluded, Asia Elim Leadership Training started on April 21st at OAPC with opening service. It is the 2nd Asia Elim Leadership Training, and the opening service sermon was delivered by Pastor Victor Ahn, the general secretary of OAAP, with the passage from James 5:13-18.
He said, "I thank God for allowing us to hold second Asia Elim Leadership Training, following last year. Last year, we had Elim Asia Pacific dedication service at the main hall, and this time, Elim gathered at a new space. It feels like we are offering dedication service again.I thank God more because we just concluded Easter retreat in the midst of great  grace and we are having Asia Elim Leadership Training and FFF Korea & China conference here at OAPC."
Pastor Ahn continued, "Elim ministry is to intercede between God and men, and to heal and encourage, which is very important ministry. Concerning the prayer of faith, apostle James says that it is the wisest way of life for believers to pray when we face difficulties. The most important thing in prayer ministry is to acknowledge our weaknesses and reveal our sickness. So I wish you can encourage many souls to confess their weaknesses."
In addition, he said, "You might grow tired and weary as you work and heal others. So through this leadership training, I wish you can gain strength to go on more powerfully, and be filled with the Holy Spirit so that we can intercede for others. Just as the apostle recorded, Elijah was a man just like us. We are the ones who can pray earnestly so that many people's hearts can be touched, healed, and make dead ones live again. I pray that you can believe this and make great works of God happen."
This time, Asia Elim Leadership Training will be held for two days. On the first day, there was opening service, testimony and prayer meeting. Pastor Youjung Shin, the representative of Elim Asia Pacific, shared, "I thank God for allowing us to have this event after Elim Center is renovated. As we gather and pray at this place, greater grace is coming upon us. In each session, new strength came upon us from heaven."
Afterwards, Pastor Youjung Shin shared about prayer tour she had with other Elim ministers in US last month. She testified to amazing works of the Holy Spirit that happened during the tour.
In the night of the first day, participants prayed earnestly crying out to God altogether in the presence of the Holy Spirit. They were able to feel the power of the Holy Spirit through the prayer meeting as Jubilee also joined to lead with praise songs.